Charting a Path to A-Level Economics Excellence
JC Economics Education Centre is a highly regarded tuition center in Singapore that specializes in A-Level Economics. We have gained a strong reputation for our excellent programs and consistent delivery of outstanding results since our establishment in 2012.
JC Economics Education Centre prioritizes delivering outstanding education by tailoring teaching methods to meet individual needs. Our principal tutor, Dr. Anthony Fok, is a highly experienced economics teacher who is passionate about guiding students to success. With his profound subject knowledge and effective teaching strategies, honed through ten years of teaching experience, he ensures students comprehend complex concepts.
Dr. Fok has authored popular economics guidebooks that benefit students and teachers alike. Our courses are meticulously designed to help students excel in their economics examinations. We offer group tuition, individual tuition, and intensive revision courses. In group tuition, Dr. Fok conducts comprehensive lessons covering the entire economics syllabus, supplemented by extensive notes and video lessons for reinforcement.
Students can submit essays and case studies for marking and feedback at any time. Our intensive revision courses, personally taught by Dr. Fok, prepare students thoroughly for their A-Level exams, equipping them with examination strategies and techniques. We also provide career guidance and support to help students make informed decisions about their future. Our track record of student success is a testament to our personalized approach, dedicated tutors, and unwavering commitment to student triumph.
We keep our class sizes small for personalised support, offering extensive summary notes to optimize your learning experience
Supplementary Instructions
Our instructors at JC Economics Education Centre, formerly educators in Singapore schools, understand the keys to excelling in exams and assignments.
Optimised Resources and Teaching
In addition to accessible resources like past-year papers, notes and tutorials, we offer consistent feedback for students and parents to track progress and pinpoint areas for enhancement
Aligned with MOE's Syllabus
JC Economics Education Centre ensures that our economics classes remain current by aligning with the ever-evolving MOE school syllabus.
JC Economics Education Centre Pte Ltd is dedicated to delivering exceptional education that empowers students to reach their full potential. The center boasts a team of highly experienced and qualified tutors who employ effective teaching methodologies, enabling students to excel academically and achieve outstanding results.
JC Economics Education Centre Pte Ltd offers affordable tuition fees specifically tailored for JC students, accompanied by flexible payment options and discounts for multiple subjects. By providing high-quality education at a reasonable cost, the center aims to make its programs accessible to students from diverse backgrounds, eliminating financial barriers and ensuring equal opportunities for top-notch education.
JC Economics Education Centre Pte Ltd strategically established three branches in Bishan, Tampines, and Bukit Timah, conveniently located near major MRT stations and bus stops. These accessible locations ensure that students from all parts of Singapore can easily reach the center without any inconvenience. The well-connected locations enable students to attend classes conveniently, maximizing their learning experience without the burden of long commutes.
JC Economics Education Centre Pte Ltd adopts an innovative and interactive approach called active learning. This approach places students at the core of the learning process, encouraging their active participation in discussions, asking thought-provoking questions, and engaging in problem-solving activities. By actively involving students in their learning journey, this approach promotes the development of critical thinking skills, enhances their grasp of fundamental concepts, and propels them towards success in their examinations. Through this dynamic and engaging pedagogical method, the center fosters a love for learning, nurtures intellectual curiosity, and equips students with essential skills to thrive academically.
Dr. Anthony Fok, a highly regarded economics tutor in Singapore, has developed a set of teaching methodologies aimed at helping students excel in the subject. Here are four key approaches utilized at JC Economics Tuition Centre:
Engaging and Practical Teaching Approach
Dr. Fok believes in making economics engaging and practical for students. He incorporates real-world examples and case studies into his lessons to make the subject more relatable. Dr. Fok encourages critical thinking and the application of economic principles to solve real-life problems.
Seamless Delivery of Subject Content
Drawing from his extensive teaching experience, Dr. Fok has refined a teaching style that ensures the smooth and effective delivery of subject content. He breaks down complex concepts into more manageable parts, facilitating students' understanding and retention. Dr. Fok's delivery is clear and concise, making it easier for students to grasp the material.
Individual Attention and Feedback
Recognizing the uniqueness of each student, Dr. Fok provides individual attention and feedback to address their specific needs. He offers personalized support during lessons, focusing on areas where students may face challenges. Dr. Fok provides comprehensive feedback on students' work, highlighting strengths and areas for improvement.
Application-Based Learning
Dr. Fok emphasizes the practical application of economics beyond theory. He encourages students to think beyond the confines of the syllabus and apply economic principles to real-world issues. This approach not only enhances engagement but also cultivates critical thinking and analytical skills. By linking economic theory to practical situations, students develop a deeper understanding of the subject.
We provide comprehensive and effective tuition classes for both JC1 and JC2 students at the H1 and H2 levels. Our aim is to help students achieve their best results in the competitive and challenging field of economics. Whether you're struggling with microeconomics or macroeconomics, our tuition classes are tailored to your individual learning needs and goals. We offer flexible schedules with classes held on weekends and weekdays at multiple locations.
Students will learn how to structure their responses to higher-order case study questions using effective answering techniques and strategies. The workshop also includes revision notes on case study skills, sample examination questions, and common errors. Past participants have reported significant improvement in their understanding and application skills, resulting in higher scores on their examinations.
The Intensive Revision Programme is a focused study program offered exclusively in December each year. It is designed for students who have not performed well in their promotional exams and wish to strengthen their understanding of JC 1 topics to establish a solid foundation. The program covers content review, Economics essay questions, topical case studies, and application of theories to examination questions. 
With more than a decade of teaching experience in both MOE schools and private tuition, Dr. Fok possesses an in-depth understanding of the subject matter. He has developed effective teaching strategies to help students grasp complex concepts. Additionally, he has authored popular economics guidebooks that are beneficial to both students and teachers.
"JCEconomics had helped me understand the topics very well and it had allowed me to improve my grades. In every lesson there is always something to leran and Mr Fok will try to make the lesson interesting by telling stories. He is a good teacher and it has been enjoyable being in his class."
"Attending Mr Fok's Economics tuition was indeed very helpful. With limited time to study, his concise and comprehensive notes helped me to revise thoroughly and quickly especially during the final exam periods. The loads of worksheets and exam papers also ensured that I had enough practice! Thanks Mr Fok for helping me achieve an A!"
"Since I got C5 for my humanities in O-level, I was always worried that my Econs would turn out to be another disappointment but after joining Mr Fok in JC2 he made it easier to grasp the various concept. His notes are also truly very helpful and with his guidance i managed to get A for my H2 Econs."
Frequently Asked Questions
In Singapore, many parents invest heavily in tuition for their children, believing it to be crucial for academic success. However, Dr. Anthony Fok views tuition as an additional form of support for a student's education rather than a mandatory requirement. Tuition aims to address any knowledge gaps that may exist.
Dr. Anthony Fok, a highly respected Economics tutor based in Singapore, was recognized as one of the top tutors in the country by The Sunday Times in 2008. His success extends beyond teaching Economics as he inspires students to develop a genuine passion for the subject. Dr. Fok goes beyond the traditional role of a tutor by imparting values and life lessons, acting as a mentor and friend to his students. He effectively bridges the gap between the school curriculum and national exams, taking pride in helping students achieve their academic goals.
To register for Dr. Anthony Fok's Economics tuition classes, simply send a text message to 8251 3684 with the student's full name, school, and preferred class time. Once the registration process is complete, you will receive a confirmation message.
In terms of fees, students are expected to make monthly payments along with a one-time material fee of $120. It's important to note that the material fee is non-refundable if a student withdraws from the class before the end of the year. If there are five lessons in a month, the fees will be prorated accordingly.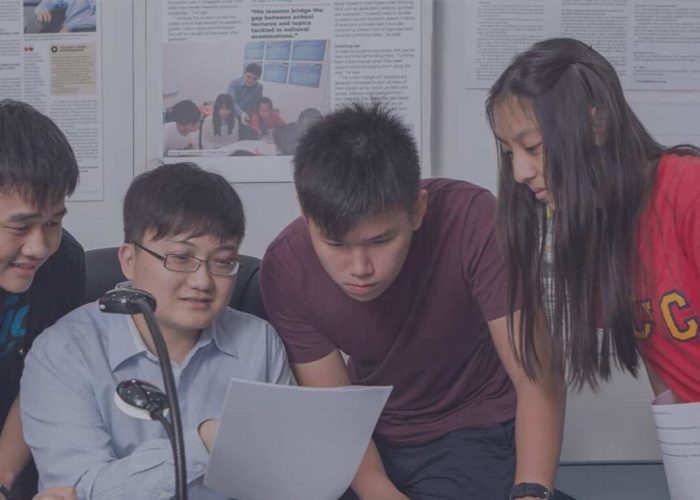 We are ready to help. Enroll Now!